---
root develop
Info in : ROOT: Rint, ver: 6.29/01,
build time: 20230731 2159, tversion 1150
---
the code like below
#include <TCanvas.h>
#include <TScatter.h>

void scatter6()
{
	TCanvas * c1 = new TCanvas();
	c1->Divide(3);
	{
		c1->cd(1);
		const int n = 1;
		double x[1] = {-15.75};
		double y[1] = {-57.75};
		double c[1] = {14691.8};
		double s[1] = {1.36173};// change the size here
		TScatter * s1 = new TScatter(n, x, y, c, s);
		s1->SetMarkerStyle(kFullCircle);
		s1->SetMarkerColor(kBlue);
		s1->SetMaxMarkerSize(1.36);
		s1->SetMinMarkerSize(1.46);
		auto hf =  gPad->DrawFrame(-80, -80, 80, 80);
		s1->Draw("P");
	}
	{
		c1->cd(2);
		const int n = 2;
		double x[2] = {-15.75, 0};
		double y[2] = {-57.75, 0};
		double c[2] = {14691.8, 1.1};
		double s[2] = {1.36173, 3.3};// change the size here
		TScatter * s1 = new TScatter(n, x, y, c, s);
		s1->SetMarkerStyle(kFullCircle);
		s1->SetMarkerColor(kBlue);
		s1->SetMaxMarkerSize(1.36);
		s1->SetMinMarkerSize(4.4);
		auto hf =  gPad->DrawFrame(-80, -80, 80, 80);
		s1->Draw("P");
	}
	{
		c1->cd(3);
		const int n = 2;
		double x[2] = {-15.75, 0};
		double y[2] = {-57.75, 0};
		double c[2] = {14691.8, 1.1};
		double s[2] = {1.36173, 1.36173};// change the size here
		TScatter * s1 = new TScatter(n, x, y, c, s);
		s1->SetMarkerStyle(kFullCircle);
		s1->SetMarkerColor(kBlue);
		s1->SetMaxMarkerSize(1.36);
		s1->SetMinMarkerSize(4.4);
		auto hf =  gPad->DrawFrame(-80, -80, 80, 80);
		s1->Draw("P");
	}
}

If I use default root --web=on
it show fine,

but if I use root --web=off or try to compile with root in my own project.
the fig1 and fig3 show nothing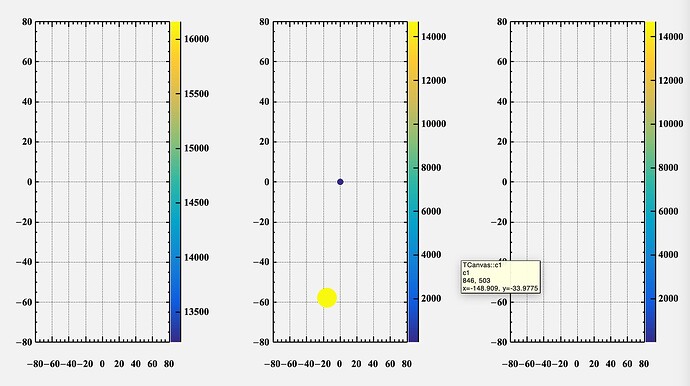 it seems the old cocoa cannot find the correct range of size of markers.
Is that a bug or
How can I compile my own project with TScatter root?