In the TattAxis Class Reference, SetLabelOffset() method is documented to set the axis labels' offset to be a certain fraction of the pad width.
If this is the case, I would have expected setting it to 0 (or some very small value) would always make the label adhere to the axis line. However, this is not seen to be the exactly the case. Especially For quite "tall" plots, there appears to be a hard limit of how far these labels can be away from the axis, and quite a high limit at that (they are farther away as the plot gets taller).
Here is a screenshot of a trivially simple example I made with 1:2 TCanvas and TH1F with the GetXaxis()->SetLabelOffset(1e-10):

Prefereably, the labels should to be much closer to the axis line, as is possible with a square canvas: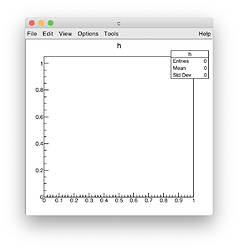 Is there no way to achieve this without drawing a custom TGAxis?