ROOT Version: 6.18/04
Platform: Linux
Hi all! I have plotted efficiency curves, and now I want to fit sigmoid functions to them. I tried to fit a sigmoid function to the first efficiency curve (the red one), which is called eff[0].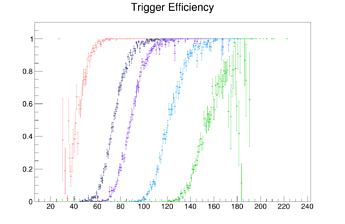 I tried:
TF1 *sigm = new TF1("sigm", "(1/(1+ TMath::Exp(-[0]*(x-[1]))))", 0, 230);
sigm->SetParLimits(0, 0.1, 5);
sigm->SetParLimits(1, 20, 60);
eff[0]->Fit(sigm);

The problem is that I get a different fit every time I run it (even though, my efficiency curve is the same each run). And shouldn't I also be able to change my parameter limits slightly without it affecting my fit, because what I do with the parameter limits is that I am basically guessing what value I think the parameter will have, right? And so my parameter output changes each time, but surely, it should just find the best fit each time, which should be the same? Also, my terminal says: STATUS = FAILED and ERROR MATRIX UNCERTAINTY = 100%. What am I doing wrong? Thanks!