Hi everybody!
I'm not 100% sure about how to call what I need.
I have these two coloumns: the first one is a list of angular boundaries, the second one is the radius of each of these angular sectors/bins.
|theta||probability|
|180.00||0.00000E+00|
|90.00||1.93071E-03|
|60.00||8.34649E-03|
|30.00||3.30873E-02|
|15.00||6.31371E-02|
|10.00||6.93081E-02|
|5.00||2.21926E-01|
|4.00||9.57030E-02|
|3.00||1.25615E-01|
|2.00||1.55263E-01|
|1.00||1.61721E-01|
|0.00||6.39622E-02|
What I want is to produce a picture like this sketch I drew: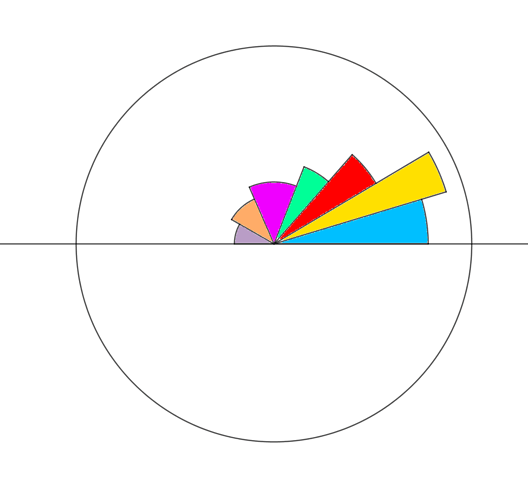 In this example, the first angular sector (the one in blue) should go from 0° to 1° counter-clockwise starting from the x-axis, and its radius should be 6.39622E-02 (the circumference has radius 1).
The next sector, in yellow, should go from 1° to 2° and it's radius should be 1.61721E-01.
So on till the last angular sector that should go from 90° to 180* with a radius of 1.93071E-03.
The closest thing I got is this TGraphPolar:

It's pretty close to what I need, but the edges of the sectors are not circumference arcs…
I really don't know how to get what I need.
There's no THistPolar class as far as I know.