Hello,
I am trying to perform an unbinned maximum likelihood fit (extended) to a weighted MC dataset, but the resulting fit parameter uncertainties are much larger than they should be. When no limits are placed on the parameter of interest during the fit, the uncertainty can be several times the value of the parameter itself. The command used is:
fit_result = pdf.fitTo(data, RooFit.Save(), RooFit.Range("fit_region"), RooFit.Extended(),RooFit.SumW2Error(True),RooFit.Minimizer("Minuit2", "migrad"))
The weight values in question are all below 1 and peak around 0.002. See the attachment for an example of the event weight distribution.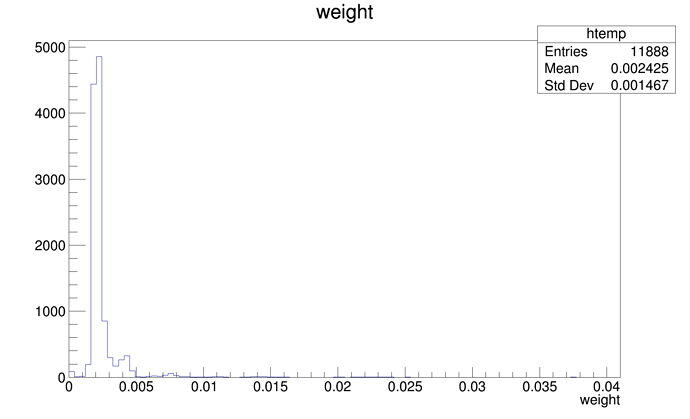 When I perform the same fit to the unweighted data (with SumW2Error set to False), the resulting uncertainties are substantially smaller, despite a negligible change in the shape of the distribution.
A very similar issue has been reported here:

There is a brief suggestion of using the event weight distribution itself, but it's not very clear to me how this would be done.
I understand that an approximation is used to estimate the uncertainties for ML fits to weighted data, but is there a regime in which it is not valid? Is MINOS still not possible to use for these types of weighted fits?
For reference, I am using ROOT version 6.04.14.
Many thanks in advance!
Best,
Jeff