Dear root experts.
I am trying to draw a histogram with root, but the plot has an unexpected offset in x labels. I tried with SetLabelOffset but it didn't work.
My code is:
can = TCanvas('can', '', 900,500)
can.cd()
histo.UseCurrentStyle()
histo.Draw()
histo.GetXaxis().SetLabelSize(0.02)
histo.SetLabelOffset(0.01,"x")
can.SetBorderMode(0)
can.SetBorderSize(0)
can.SetFillColor(kWhite)
can.SetBottomMargin(0.5)
can.SaveAs('histotemp.png')
and this is how it seems: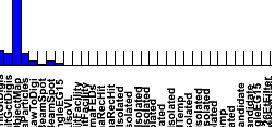 . I'm using pyroot.
Have any of you any idea of how to fix this?.
Thanks for your help.