Hey ROOT, I just thought I'd propose adding some new information to the Complete ROOT Installation Instructions for WSL (Ubuntu 18.04 on Windows 10) WSL GUI thread, since unfortunately my own forum account doesn't have the permission to post on it directly. It's also probably just nice to to know information, since I suspect people here might not be the kind of people to install new Windows releases on the day they're out.
With Windows 11, and the upcoming release of Windows 10 21H2, WSL (or specifically, WSL2) recieved a lot of new features, particularly importantly, it now has built in GUI, Audio, and GPU (CUDA & OpenGL) support. This is referred to by Microsoft as WSLg
There's no extra setup beyond WSL to actually achieve the GUI and Audio support. You can literally just download the precompiled binaries and run ROOT graphically, no configuration of X11 servers required. It looks like this (And notice how for example it even integrates into the Windows 11 task bar on a per window basis like good old X11)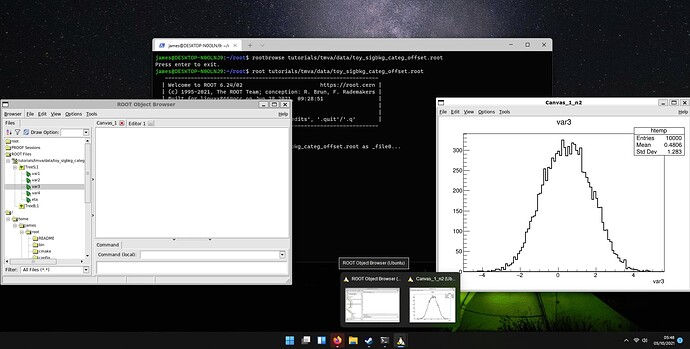 The only thing I did notice is that having upgraded from Windows 10 to Windows 11, I had to run wsl.exe --update in Windows in order to get this to work properly, after this, the GUI integration just worked as if by magic. I imagine Windows fresh Windows 11 installations won't have this problem, but it's probably worth doing this unconditionally just incase. For the same reasons, Windows 10 users are recommended to do this if updating to Windows 10 21H2.
Finally, there's some new shortcuts in WSL itself. Users on Windows 11 can simply run wsl --install -d ubuntu, without worrying about having to find manually set up other Windows components or interact with the Microsoft Store.
I'd also recommend people update their graphic drivers if they're looking to make use of this feature.