So I am trying to use the good old Fit Panel to fit a times series data with an exponential distribution.
First of all, when I set the range using the slide bar at the bottom the limits on the graph do not show up anymore (as they used to). This was a very useful feature, and I do not understand why it was removed (or if its broken then needs to be fixed?).
But the bigger problem is the following If I select "expo" from the drop down menu it fits the data totally fine. See screenshot.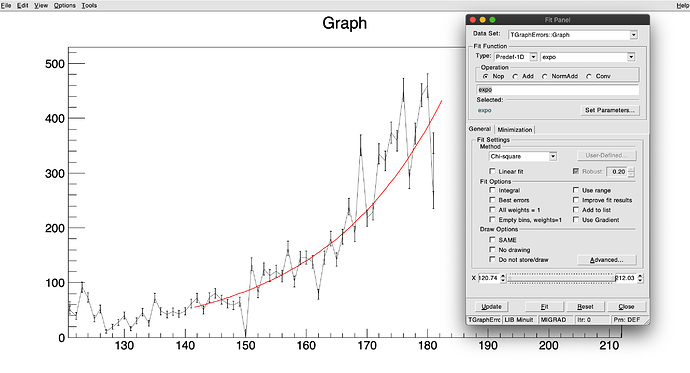 Great, right?
However if I select my own function – another exponential – the fit sets all the parameters to zero.
Yes, I can go and set the initial values close enough to the real thing, and the the fit works – however that is absurdly tedious, and essentially partially defeats the purpose of the fit!
Is there a workaround? I mean it's 2020, it shouldn't be so hard to do a quick fit, right? Especially for ROOT, right?
Areg
p.s. here's the definition of the function I am using for fitting:
TF1 *f=new TF1("f","[0]*pow(2,([1]-x)/[2])",140,175)

---
Please read tips for efficient and successful posting and posting code
ROOT Version: 6.20/04
Platform: Catalina
Compiler: Not Provided
---