Hi all,
I am wondering if anyone else has noticed that the Landau function in ROOT returns a different distribution than the one in Mathematica, given a location parameter and scale parameter (mu, sigma), and understands the reason.
I can only find this information about the ROOT definition:
https://root.cern.ch/root/html524/TMath.html#TMath:Landau
and that it comes from the Fortran package here:
http://cmd.inp.nsk.su/old/cmd2/manuals/cernlib/shortwrups/node151.html
For example, the ROOT documentation says that for mpv=0 and sigma=1, the MPV is at x=-0.22278.
In Mathematica, given a Landau[0,1], the maximum is at x=-0.429314.
Alternatively, if I generated random events from the two programs given location parameter = 0.6, scale parameter = 0.0672, I get the following distributions which are in the image attachment…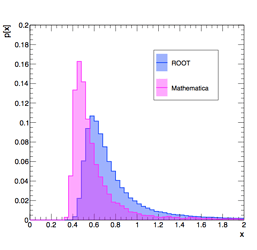 My first thought is that the location and scale parameters are defined differently from the wikipedia version, which is what I believe Mathematica uses.

Any insight would be great. Thanks!