---
ROOT Version: 6.22/02
Platform: CentOS 7
Compiler: GCC 4.8
---
Dear ROOT developers,
Thank you for a great feature you implemented recently: Multi-Python PyROOT to
use Python 3 and 2 with a single installation annonced in
ROOT Version 6.22 Release Notes.
I want to ask you some questions about ROOT documentation mechanism with Python
and Jupyter.
R seems to be able to convert documentation from roxygen (source code) to
console and even Jupyter. For instance I tested this tutorial:
Writing an R package from scratch | Not So Standard Deviations. After documentation build and package installation the comments from my demo package myFunction_6916762.tar.gz (744 Bytes) was correctly printed in the console:
$ R

R version 3.6.1 (2019-07-05) -- "Action of the Toes"
Copyright (C) 2019 The R Foundation for Statistical Computing
Platform: x86_64-conda_cos6-linux-gnu (64-bit)
[...]
> ?myFunction::add


add                 package:myFunction                 R Documentation

Add together two numbers

Description:

    Testing add function documentation in bt_spn #20401.

Usage:

    add(x, y)

Arguments:

[...]

(END)

and Jupyter: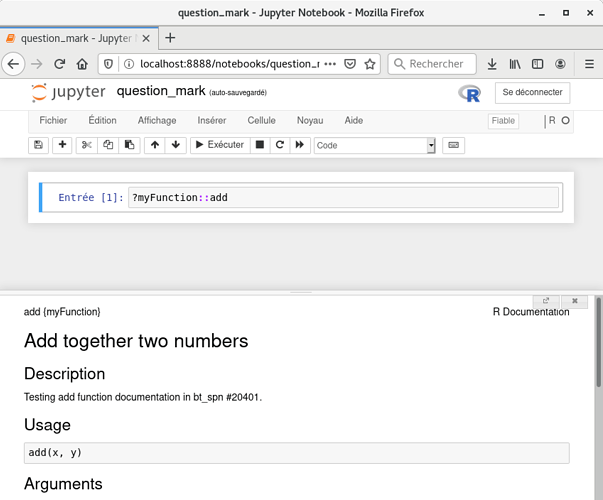 .
Does a similar mechanism exist in ROOT? A previous topic may indicate that this
wasn't the case in May 2019: Python help function on ROOT class methods.
However I suppose ROOT may have new documentation features in recent releases.
Is Chapter: HTMLDoc an equivalent of R documentation mechanism?
It would be nice to have Doxygen documentation into Cling, Python and
Jupyter.
Best regards,