Dear Root Authors,
I'm trying to understand how the TEfficiency class handles weighted events, in particular how the Bayesian posterior distributions of the efficiency are calculated. There seem to be some inconsistencies between the documentation describing how this is done and the actual code.
According to the documentation, this is the posterior distribution:
I managed to derive this myself fairly easily from some of the other formulae in the documentation. This does not behave the way I would expect, increasing the number of events has no effect on the shape of the distribution (it should get narrower as more events means a better estimate of your efficiency).
Looking at the code, the above isn't the function that's actually used, this is: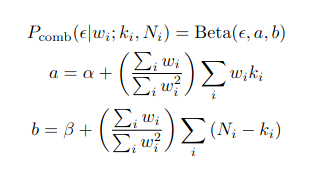 This behaves the correct way. Please explain/point me to an explanation of how this is derived.
See lines 2630-2650 of TEfficiency.cxx for where this is coded up in root.
ROOT Version: Not Provided
Platform: Not Provided
Compiler: Not Provided
---