Hi,
I have a macro which perform a simple monte-carlo simulation. I write the generated events in a TTree called "EventNTuple" and created after a TFile is openned. This tree is filled in a loop and after the end of the loop, I use TTree::Write() to write the tree in the TFile.
In addition, I write also some histograms and functions, and a TGraph in the file.
When I open the browser, I get this :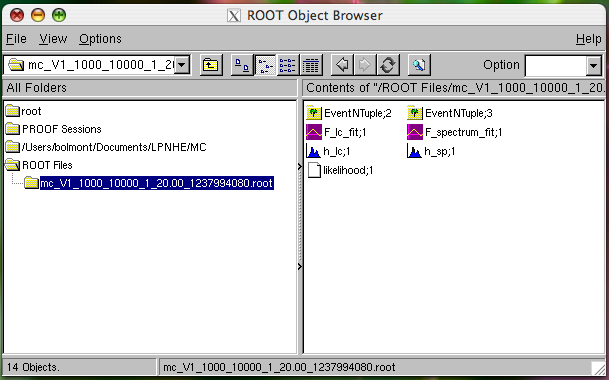 My questions are:
Why do I see two objects "EventNTuple" with ";2" and ";3" ? Does it mean that I write the tree twice in the file ? In general, what do these ";2" and ";3" mean ?
When I double-click on the TGraph "likelihood;1", I get an empty canvas. The object itself is correct since I can draw it using "TFile::Get()". I tried to set default draw options in my rootrc file but it had no effect, and I didn't find any other solution in the forum. Is there any way to get the plot directly from the browser ?
I don't understand how to use cuts with the TreeViewer. Is there any documentation on this particular point ?
Another question, not related to the previous ones:
4. Is it possible to catch exceptions in a root macro executed with
root -l -b -q macro.C
Thanks a lot !