Dear ROOT-experts,
my collaboration has a Geant4 application that writes its output to a ROOT TFile. We have 24 detectors and create a TTree for each of them. Each TTree contains several branches, 4 of them are of type char and 30 are of type double. I wrote a minimal example to show this structure and fill the TTrees. It also outputs the res and virt memory. The plots below only show the res memory monitored with top.
FillTree.C (2.5 KB)
If we use the default settings for AutoFlush and AutoSave (comment line 90-91), creating 5e6 events, the memory stays constant at ~300 MB for the first 3.5M events and then suddenly jumps to 5 GB and then to almost 8 GB.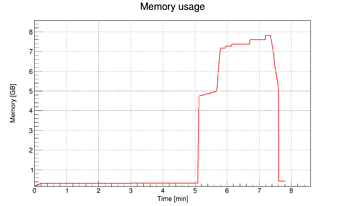 mem_24TTree_5e6_default_AutoFlush.txt
(5.5 KB)
We tried to decrease this high memory usage by adjusting the AutoFlush to 5 MB, and AutoSave to 50 MB. With that the memory jump is happing much earlier, but only goes up to 6 GB for 2e6 events.

mem_24TTree_2e6_5MB_AutoFlush.txt
(3.8 KB)
On the other hand, I also created only 1 TTree in the minimal example (line 26) while increasing the number of events by a factor of 50 (line 27, 1e8 events). So this would produce about a factor of 2 more data filled in 1 Tree compared to the previous 2e6 events in 24 TTrees. Indeed, the ROOT TFile size increased by more than a factor of 2 (347MB → 928 MB). Nevertheless, the memory consumption stayed constant at ~500MB.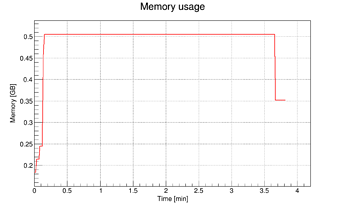 mem_1TTree_1e8_5MB_AutoFlush.txt
(56.7 KB)
Is there something we are doing wrong when filling 24 TTrees compared to just 1 TTree? Is there an explanation for this large memory usage?
I have run the attached minimal example with:
ROOT Version: 6.26.04 and 6.24.06
Platform: Ubuntu 20.04.4
Compiler: gcc 9.4.0
I compiled ROOT with the following flags:
-DCMAKE_BUILD_TYPE=RelWithDebInfo
-Dmysql=OFF
-Dodbc=OFF
-Doracle=OFF
-Dpgsql=OFF
-Dpyroot=ON
-Dxrootd=OFF
-Dpython3=ON
-Dunuran=OFF
-Dminuit2=ON
-Droofit=ON
-Dfftw3=ON
-Dgsl=ON
-Ddavix=OFF
-Dfortran=ON
-Dbuiltin_fftw3=ON
-Dbuiltin_gsl=ON
-Dbuiltin_glew=ON
-Dbuiltin_cfitsio=ON
-Dbuiltin_vdt=ON
Edit: Minimal example and plots attached.