Hi,
I am looking at a root file that has 566 track objects stored inside. I'm not sure I can say 566 entries as .GetEntries() returns the value 1. When I .Scan() the tree however, it returns 566 so-called instances. I think I am missing the difference between the two. Unfortunately, "instance" is not a great keyword to search for as it can mean a lot of things.
Here is what this looks like (this continues until the 566th "instance", so, as I expect, there is not just one entry):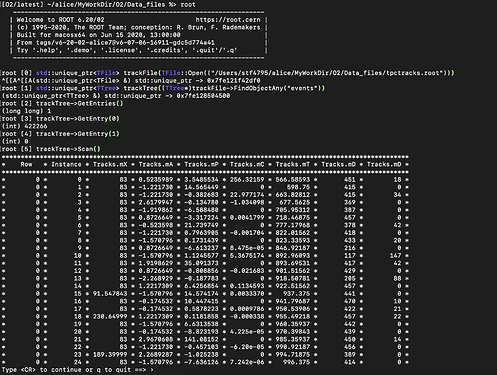 I would like to loop over those instances. How do I do that? What I am used to use, .GetEntry(), doesn't work here.
What is the difference between an entry and an instance? that should most likely help me figure out how to solve my issue.
---
_ROOT Version: 6.20/02
Platform: macOS catalina
---
Best wishes,
Aimeric