I create two TTree in one root file and assign some branches for trees.
myfile = ROOT.TFile.Open("3j3b.root","RECREATE")
mytree_sig = ROOT.TTree("sig","Signal")
mytree_bkg = ROOT.TTree("bkg","Background")

topFs = array.array('i',[0])
topFb = array.array('i',[0])
mytree_sig.Branch("jet_GBHInit_topHadronOriginFlag",topFs,"jet_GBHInit_topHadronOriginFlag_sig/I")
mytree_bkg.Branch("jet_GBHInit_topHadronOriginFlag",topFb,"jet_GBHInit_topHadronOriginFlag_bkg/I")
# I skipped codes of other branches that work well

for k in range(10000):
    topFb[0] = origin[k]
    topFs[0] = origin[k]
    # Here origin is a list of integers
    mytree_sig.Fill()
    mytree_bkg.Fill()
mytree_sig.SetDirectory(0)
mytree_bkg.SetDirectory(0)

myfile.cd()
mytree_sig.Write()
mytree_bkg.Write()
myfile.Close()

However, I finally got four TTree (two repeated trees) and weird values (should be integers) for the branch.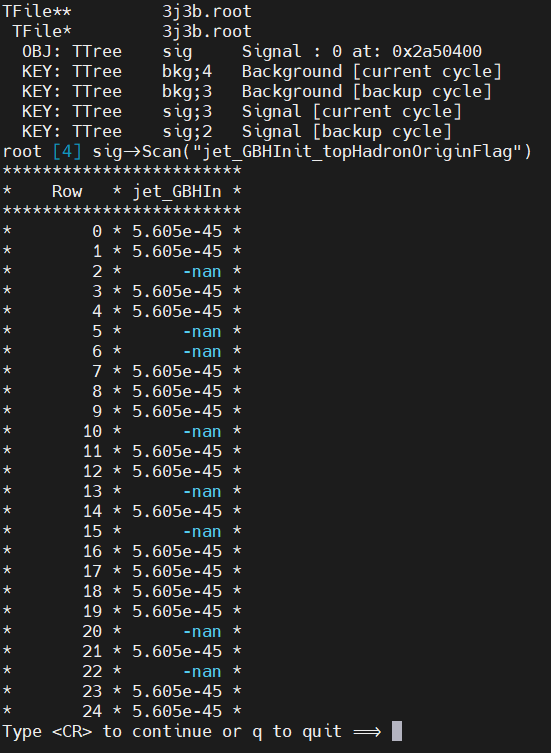 )
Does anyone know the reasons for them? Thank you in advance!
Happy Holiday!